COSMIC CONNECTION

Since July 11, 1993
Posted April 1, 2015 - 5:46pmUpdated April 1, 2015 - 6:02pm
Lander County has the most UFO sightings in Nevada — why?
By KRISTEN DESILVA
REVIEWJOURNAL.COM
Want to become a UFO hunter? You should probably try going to Lander County.
For those of you who haven't studied Nevada geography in a while, Lander is the county at the center of the state, with a population of 5,844. The county has the most sightings of UFOs per person, according to FindTheBest.
Lander County has a ratio of 188 sightings per 100,000 people, while Clark County sees about 19 sightings per 100,000 people. So while Clark County gets a higher number of reported sightings because of its just over 2 million residents, Lander County clearly has more sightings per person.
So, what makes Lander County such a friendly place for little green men? It's not Area 51: That's in Lincoln County — nowhere near Lander.
Battle Mountain and Austin, Nevada — named for Austin, Texas — are the two most populous towns in Lander County, at 3,635 and 192, respectively. Both offer an attraction of some sort, although it doesn't seem like there's anything UFO-centric, like the Little A'Le'Inn on the Extraterrestrial Highway in Rachel.
The last entry on the self-reported National UFO Reporting Center's State Report Index from Lander County was from August, and was a flash reportedly seen for 10 minutes, with the comment, "Would stop on a dime, move in circles, am sorry, but no man-made aircraft can physically do that."
According to their website, Lander County is mostly public land managed by federal agencies, with a population density of .99 per square mile. Their economy still relies on mining, but they claim fame to their many festivals.
Is whatever's in Area 51 escaping and going up north? Was Lander previously inhabited by other worldly beings and people are starting to notice? Someone call Scully and Mulder.
Contact Kristen DeSilva at 702-477-3895 or
kdesilva@reviewjournal.com
. Find her on Twitter: @kristendesilva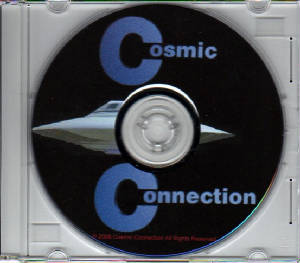 Cosmic Connection Presents

The Billy Goodman Happening

MP3 Audio Disc Shows

Las Vegas, Nv

Twelve (12)

Of the best interviews from

Las Vegas , Nv. KVEG Radio1989

Dealing with Area 51, Bob Lazar,

The Philadelphia Experment,

Bill Cooper, Yellow Fruit,Ufo

Events, and much, much more.

Order your copy today!

$ 24.95 plus $6.00 S&H

All MP 3 audio disc.

Art Campbell The 1947 UFO Crash on the Plains of San Augustine
Third mutilated cat found in Universal City
Alia Malik, San Antonio Express-News
July 8, 2014
Cats mutilated in Universal City
SAN ANTONIO -- Universal City police found a dead and mutilated cat Tuesday morning in its owner's front yard -- the third such find in two days in the Coronado Village subdivision. "The homeowner gets up pretty early, and he found it," said Lt. Fernando Parra of the Universal City Police Department. "It wasn't there yesterday. It was fresh." Police are looking for a person, or multiple people, who could be mutilating the cats. Police do not know what type of instrument was used, but the cuts on each of the three cats were very precise, Parra said. "An animal's not going to make cuts like that," Parra said. The latest mutilated cat was found just before 7:30 a.m. Tuesday in the 200 block of Quivira Drive, Parra said. Two others were found Monday -- one in the 400 block of Balboa Drive, and another at Granada Drive and Coronado Boulevard, Parra said. The cats were found during the day in people's front yards, though not always the yard of the owner, Parra said. Parra said the district attorney's office is deciding whether a local veterinarian or Texas A&M University will perform necropsies on the cats, in part to determine whether they already were dead before they were mutilated. The person or people responsible face animal cruelty charges, Parra said. Police are asking anyone with information to call the police department's main line at 210-658-5353. "Somebody might see something," Parra said. "They're doing it kind of in plain sight."
amalik@express-news.net
Twitter: @AliaAtSAEN
http://www.mysanantonio.com/news/local/article/Third-mutilated-cat-found-in-Universal-City-5606435.php
- More Bloodless Half-Cats in Florida.
May 10, 2014
The chest cavity that should contain the heart and lungs was empty and the trachea was cut near the neck. The spinal cord appeared to be cut clean. The tissue did not appear to have been violently torn as it would have in
the event of an animal attack. ...the trauma inflicted on the cat was most likely done by a knife or sharp object.
- Lakeland Police Dept. Incident Report, vet analysis of mutilated half-cat found at 7:45 AM on April 23, 2014, only 45 minutes after let out of house in Lakeland, Florida

http://youtu.be/Kaw4mabeGqA

UFO sighting over Las Vegas, Nevada on 17th October 2014

Rendlesham forest UFO sightings commemorated by sculpture

Posted by: Alejandro Rojas September 23, 2014 2 Comments 2,009 Views

The UK's most famous and compelling UFO incident is being commemorated by the UK Forestry Commission. A large metal sculpture depicting one of the UFOs as described by a witness has been built and will be installed in the location of the sightings in the Rendlesham forest.

The Forestry Commission wants to make it clear that although they are commemorating the incident, they are not trying to take sides on the debate surrounding the existence of UFOs or extraterrestrial visitation. According to the BBC, "The commission said the sculpture was 'impartial' and did not seek to answer the mystery."

However, the commission acknowledges that something took place. The recreation manager at Rendlesham forest, Nigel Turner, told the BBC, "Clearly something happened – there's a party who believe it was something military, there are people who believe it was extraterrestrial activity and we respect all opinions."

July 5, 2014 - Update from Stanton Friedman.

"Stan was released from the hospital yesterday, July 4th, and is in good spirits. He's happy to be at home where he can resume his ufological activities."

- Kathleen Marden, co-author with Stanton Friedman, Captured! The Betty and Barney Hill UFO Experience and Science Was Wrong  

Stanton Friedman, physicist, Roswell UFOs investigator

and author, Fredericton, New Brunswick, Canada, suffered a mild heart attack on Friday evening, June 27th. After additional tests and treatment, he is recuperating at home. He thanks everyone for their concern.

Stan can be reached at P. O. Box 958, Houlton, Maine 04730.

Seven Questions 4 George Knapp By Sean DeFrank 1/20/11

FROM The NUFORC database of sighting reports

Mr. Peter Davenport http://www.nuforc.org/

Stationary Object over California and Nevada

During the period of May 24-26, our Center received a number reports from northern California and Nevada of an object, apparently at very high altitude, which seemed to the witnesses to remain stationary over a long period of time. Our first reaction was that the object might be a large helium-filled balloon, being used for some research application, given that our Center has received many such reports over recent decades. However, our experience has been that those balloons rarely are reported to remain motionless, as measured over the course of hours....

Turkey UFO Incident The Kumburgaz Case 2007-2009